Introducing a sensational gastronomical venue, at one of the most mesmerising locations in Oia, combined with an innovative and exciting version of the renowned Greek cuisine: Postmodern Aegean degustation. Introducing the Black Rock Restaurant.
Indulge in the newest development of gourmet Greek culinary art. Where traditional meets modern, and familiar is greeted with the alternative, resulting in an experience that you will definitely recommend time and time again.
The name 'Black Rock' reveals the inspiration behind it, which is none other than the volcanic remnant that is opposite Santorini's caldera. Our restaurant is located precisely at where the area of Oia overlooks the volcano, giving our dining guests an incredible vantage point into the Aegean sea.
A view of our stunning Black Rock Restaurant, waiting to welcome its dining guests.
Our clean-cut, modern lines, wood detailing and dramatic light exude a minimalism that will enhance the stunning views, and our tantalising flavours.
The masterminds behind our Black Rock Lunch and Dinner menus are Toque D'Or consultant chef Mr George Venieris, and London based chef de cuisine George Choraitis, who join culinary forces to bring London's best Greek cuisine, to Santorini. They have devised dishes that are rooted in tradition, but in many respects, the end result goes beyond rational expectations. If you are familiar with traditional Greek cuisine, we challenge you to taste the Black Rock edition of the classic 'Stifado' recipe and see exactly how far we have developed it.
Let us take you on a Toque D'Or journey to our Black Rock flavours, and give you a small taste of what we are about.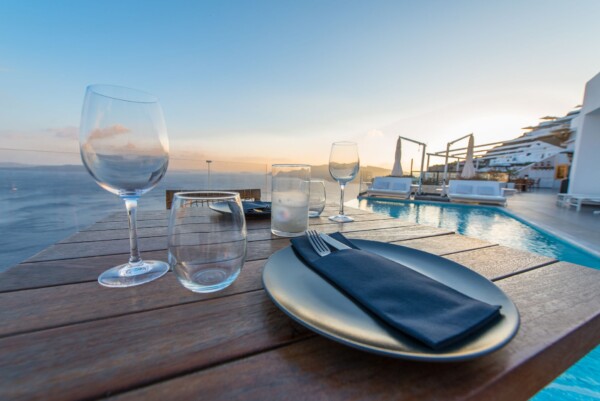 The sumptuous Stifado dish, a la ….Black Rock.
The classic rabbit dish 'Stifado' is prepared in a vinegar and 'Mavrodaphne' (Greek red dessert wine) sauce, infused with the traditional spices of cinnamon, carnation and pimenta. Black Rock's recipe adds a touch of rosemary, and prepares the second element of the dish, the onions, as such: kokkari onions from Samos island are steamed so that they are much lighter than the usual broiled onions that are including in the sauce while it cooks. A special onion puree acts as the base of the dish, while the 'pulled' rabbit ensures you will only get the fillet rather than a piece, and searing it seals the flavour, rather than it being lost in the rich sauce. A blossom of rosemary is our finishing touch before serving you this exceptional dish full of dynamic taste.
Our Flamed Mackerel is also a traditional dish that we have progressed to give it a Postmodern Aegean feel and in this case, less is more. The fresh mackerel fillet is flamed not grilled or seared, and by this way it retains more of its natural juices and flavours; simple as that. Accompanying it is a velvet fava puree, the freshness of katsouni (a local crunchy cucumber), pickled mustard seeds, lacey onion chips and a bold caper couscous.
Our version of the ever classic Greek salad is perhaps the most astonishing in terms of ingenuity. The Black Rock Greek salad will most definitely surprise you. Putting the traditional version to the ultimate test, our Greek salad goes something like this: marinaded in a soy vinaigrette and fragrant oregano, multicolored cherry tomatoes form the base. They are a local Santorinian delicacy exported to the rest of Greece and abroad. Marinaded bread rusks soak up all the extra juices making them a sensational addition, while the salad is topped with crispy filo rolls stuffed with a cream of Feta cheese.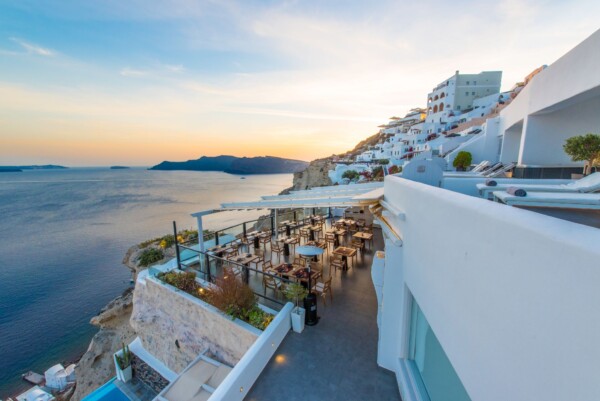 For dessert, try our take on another Greek classic, the Galaktoboureko (semolina and milk custard pastry) that is served as an individual crunchy filo pouch rather than a slice, and is served with soft madagascar vanilla ice cream and an intense cinnamon wafer.
Our menus can be combined with exceptional wine selections, as well as our unique and creative cocktails that are perhaps the most refreshing complement to your dining experience at Black Rock Restaurant.
All you need to do is visit Santorini Secret, and begin a tasteful journey that satisfies all your senses.