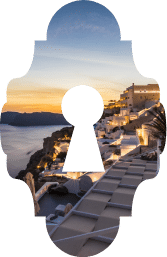 WELCOME TO SANTORINI SECRET SUITES & SPA
Caves suites along the Caldera & deeply woven into local wine heritage.
If you seek a 5 star Santorini hotel with private pool, look no further than our private pool suites for securing a holiday made of privacy and Cycladic dreams. Across all our luxury accommodation options, you can instantly immerse yourself into the beauty of one of the world's most unique islands while experiencing the exclusivity and tranquility that Santorini Secret Suites & Spa generously provide. The beautiful suites and villas stay true to traditional Cycladic island architecture, invigorating your senses by incorporating a contemporary twist with splashes of bright colours within the stylish decor.