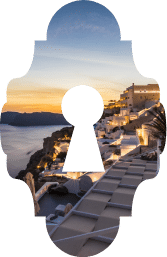 WELCOME TO SECRET LEGEND SUITES
Where your quest for the perfect holiday leads you.
Here, luxury meets warm hospitality in one of the most iconic island destinations of the world. Built within Oia's embrace, Secret Legend Suites encompass all of the secret ingredients of the legendary Cycladic hospitality across its 7 suites. For the most exclusive stay experience, choose our Santorini cave suites while you enjoy the luxury amenities and services, the elegantly soothing island decor and admire the vistas of the idyllic location, under the auspices of the magnificent Caldera and the infamous sunset.