Easter arrives on the wings of Spring, bringing with it glorious days and vibrant nights, charged with the spiritual energy of Greece's most important holiday. Spring in Santorini is rejuvenating; the Mediterranean climate begins to work its magic, and the white washed structures are gradually embraced by the shy but colourful bougainvilleas. All across the country, everyone is excited to spend this holiday enjoying the Greek outdoors, as apart from interesting Easter traditions and delicious culinary customs, the Spring climate allows for us to begin our Summer daydream, making it possible to also combine the first island venture of the season.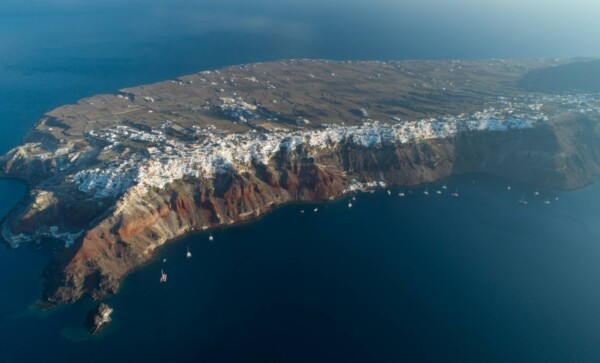 If you have not experienced Easter in Santorini, then we are incredibly thrilled for you. You are in for a different kind of holiday. You will get to experience Santorini like never before, and for these three reasons:
– Get acquainted with the local Easter customs
– Explore Santorini pre-summer
– Immerse into the recharging realm of Santorini Secret, enriching your stay even more!
Easter Customs
During Easter, we experience a range of emotions and experiences, from the mournful Good Friday to the exuberant Holy Saturday, the eve of Easter Sunday. Generally undergoing through a period of increased fasting leading up to the Resurrection of Christ that is celebrated at the stroke of midnight on Holy Saturday, the households begin baking Easter goodies such as Easter cookies, or koulourakia, tsourekia, a sweet milk bread and of course our local favourite, melitinia. Red Easter eggs are hard boiled and dyed, ready to elect the season's lucky individual, provided their egg remains intact. Good Friday is the saddest day, when mourning for Jesus Christ culminates in a evening sermon while a flower adorned epitaph is taken around the narrow streets, followed by a grieving procession of black wearing faithfuls. In the village of Pyrgos, the locals tend to one more, enchanting tradition that is exceptionally magical to watch from afar: the village is decorated with hundreds of lanterns, making it glow brightly, almost magically.
As Holy Saturday dawns, the energy of the island begins to change, and you can almost sense the imminent feeling of renewal, in anticipation of the Resurrection at midnight. Everyone gathers to their closest church, and waits for the 'Christos Anesti' chant to be belted loudly through the speakers, while church bells toll jubilantly across all corners of the island, and the midnight sky is illuminated by joyful fireworks. The Holy Light is shared by the priests to the faithfuls, and it is taken home to purify each household, followed by a late night, light dinner, the first occasion signalling the end of Lent. Easter Sunday is a full day of eating, drinking and dancing, where meat is finally welcomed back to the table, since Clean Monday, at the end of February.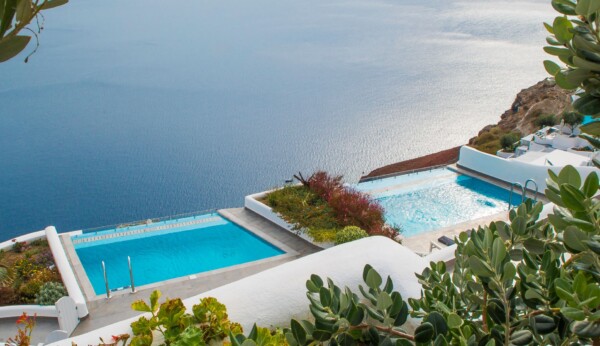 Explore Santorini pre-summer
Visiting Santorini at a quieter time than usual means you will be able to explore it at your ease, at your pace, at your service! No queues, no hurry, no rush – just right. If there a time when Santorini is still quiet yet very exciting, it is during Spring. Everything you wanted to do in Santorini is possible and possibly even more enjoyable, as you will often forget you are not the only two people on the island! The colourful beaches are there for the taking, the delectable wines are there for the sampling, while the volcano is also there, perpetually emitting its dark charm while the world's most amazing sunset paints a picture perfect sky that can be enjoyed from the elegant comfort of your own Infinity Suite or your retreat-like Junior Villa.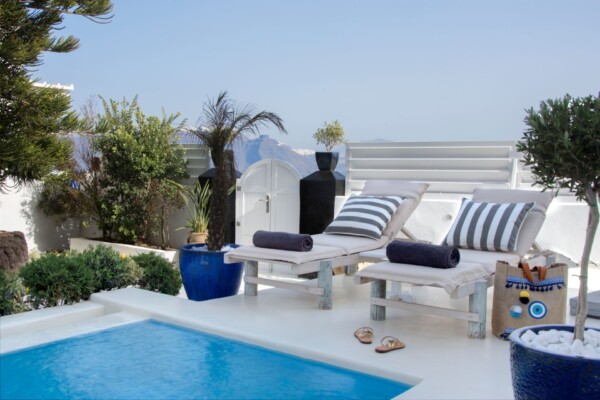 If it's Santorini by sea that you wish to see, then you can easily arrange an unsurpassed sailing tour that allows you to access the island's most secluded spots without lifting a finger. Touring Santorini can also be done by air or by road, so they choice of experience is entirely yours.
It could take some courage to brave a swim in the Aegean sea, but it only takes to believe your eyes and surrender to all the amazing moments you can spend with us! Private, heated swimming pools ensure you can soak in the the sun rays and work on your tan without worrying about temperatures! Our awarded Black Rock restaurant will be the host of your most phenomenal dinners. Want to maximise on relaxation? Our soothing Secret Spa will be able to relax and rejuvenate you to the brim, leaving your energy levels fully replenished to seize the day, or night, helping you tailor-make your ideal Easter holiday.