What are holidays all about? If you had to pick three things, what would they be? To each person, the perfect holiday will entail a different list of things. However, at Santorini Secret Suites & Spa we have shortlisted the top three that we feel everyone can agree on: amazing views, top tier facilities and experiences that help you to relax. We have made it so that we score highly on all three counts. And since relaxation is the key to being able to thoroughly enjoy all other moments while on holiday, we introduce our Harmonia Spa in Santorini that has been designed to harmonise you entirely. A serene sanctuary amidst Santorini's majestic embrace, here you can rekindle your inner balance with comprehensive spa treatments aimed at emptying your mind of worries, restoring the health of your body, nourishing your skin all the while renewing your spirit. We use the famous Apivita brand products that are natural and sourced from the goodness of Greek soil.
Couples spa harmony
Our Harmonia Spa has been named after the Harmonia, child of Ancient Greek goddess Aphrodite and ancient Greek god Ares. The name literally means 'harmony', making it absolutely fitting for our spa facility. Since our Harmonia Spa is so closely linked to Aphrodite who was the embodiment of love in Greek mythology, and Santorini is the most romantic Greek island, we have devised some sublime spa treatments specifically for couples. Choose one of three (or all three!) carefully prepared treatments that combine both massages and face treatments for a full body experience, next to your loved one. The Mediterranean Ritual, the Royal Honey Ritual and the Relaxing & Destress Ritual treatment, bring you the best of Greece's ingredients in a pampering sessions fueled with the power of antioxidants found in olive oil, honey and lavender. Couples can enjoy any of these rejuvenating treatments in the privacy of their Santorini Honeymoon Suite or villa terrace and completely unwind without having to lift a finger.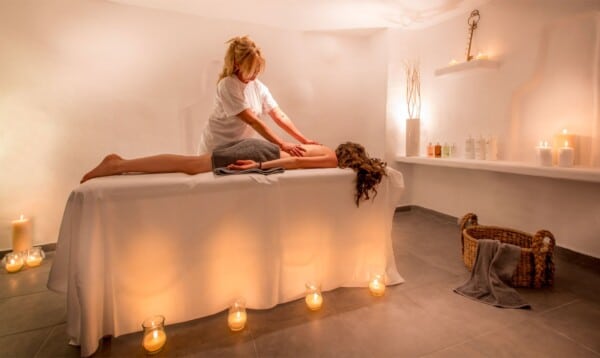 Massages, body treatments and facials
Massages, body treatments and facials have been main spa features used to relax firstly body, then the mind. Massages have been used since the ancient times on royalty and aristocracy, as a luxurious and ultimately pampering treat, then progressively on more and more people as it became known that massages are not purely for pleasure, but also have a medical aspect to them. Massages work on the muscles, alleviate strains and release tension that has potentially accumulated during our daily routines or following strenuous activities. There are different types of massages for different needs, so let our team know what your needs are, so we can recommend the best treatment for you!
Surrendering to the experienced hands of our spa therapists and get to experience our Harmonia Signature massage that is both soothing and nourishing while the Caldera Hot Stone massage is grounding and conditioning. The Apivita Signature massage guarantees refreshment, the Deep Tissue massage is suitable for those tight muscles, the Apivita Aromatherapy massage will take you on a mental journey, while the Foot Ritual will take the weight off your feet.
Body treatments offer a more holistic approach, as it treats the skin as well as providing a more than pleasant sensation. Exfoliate, moisturize, and regenerate! Try the anti-ageing Royal Honey for repair and renewal, the Aegean Wind for 80 minutes of absolute relaxation, as well as the Apivita Body Scrubs that are exfoliating and stimulating to the skin. For quenching thirsty skin, go for the Deep Hydrating Cooling Treatment and feel the difference instantly.
But let us not forget about the face! It is the thing people notice on us and remember us by, that which is most unique and recognizable. We have five wonderful face treatments, one of which is specifically designed for men. Depending on your skin's needs, whether they are firming, anti-wrinkle, hydration or age defense, we have the treatment for you.
See our full list of Santorini Secret Spa Treatments and make your reservation in order to experience the power of our s-pa-mpering for yourselves.