Planning your Santorini honeymoon? Well, you couldn't have chosen a better destination to amplify your love. Santorini island and romance go together like a horse and carriage. The uniquely immaculate landscape of Santorini lends itself to making your romance one that will be written in the stars of the Greek sky. The dramatic Caldera cliff, the endless sea views overlooking the volcano and the sun that dips into the sea, leaving a colourful masterpiece in the sky are only the fundamentals of what your Santorini honeymoon could entail. And since your honeymoon should be an experience of a lifetime, at Secret Hotels we can make sure it will be, especially if you want to take it up another notch!
Curating your ideal Santorini honeymoon! 
For a honeymoon that is made of Cycladic dreams, here are just some of our exclusive, romantic experiences that will curate your Santorini honeymoon into being absolutely iconic, like an epic fairytale of a story to tell your loved ones for years to come.
Tuck your love away in blissful quarters
First things first. If you are looking for the perfect Santorini honeymoon getaway, then why not indulge you and your other half by staying at a Honeymoon Suite with private infinity pool in Santorini. Specifically designed to tuck your love away into its elegant interiors, this suite comes with a spacious panoramic view terrace that will be the setting of incredibly romantic moments basking in overwhelming vistas of Santorini's fascinating Caldera & the volcano as your backdrop. However, if you wish to discover another, perhaps more refreshing, aspect of Santorini altogether, you could choose one of our many fit-for-romance suites that reveal incredible vantage points other than the Caldera. Panoramic landscape views of the entire island and mesmerising, direct sunset views are offered from our other Secret Hotels primely located in the best spots of Santorini island.
Embark on a wine degustation journey
We realize that honeymooners wish to spend as much time in the comfort of their chosen suite as possible. This is why we have devised and highly recommend our exclusive, private wine tasting experience, brought directly to the privacy of your suite's terrace with absolutely minimum effort on your part. Taste the finest and most famous Santorini wines, while you gaze into your future together overlooking the Aegean blue, as far as the eye can see.
Have a sunset picnic at a secret spot
Imagine a secret spot for just the two of you, where you can indulge in majestic sunset views undisturbed by the crowds. Now add a delectable picnic basket, filled with fusion dishes accompanied by refined local wines and champagne. Book this private picnic evening whilst on your Santorini honeymoon and prepare to enjoy a 2 hour session that is made with all the elements that fully encapsulate the rapture of what it feels to be in love.
Bond through joint culinary creations
If you are one of those couples who love preparing food together, then perhaps our cooking classes for two is something that will enthuse you while on your Santorini honeymoon. Not only will you learn about the secrets of the most famous local recipes under the guidance of our creative Chef, but you will also taste every dish during its preparation as well as savouring the adeptly paired local wines that will make every flavour on the menu come together consummately.
Indulge in private dining experience
Apart from epic views, Santorini is known for its unique local ingredients that are the result of its changed landscape. The volcanic terrain of the island has helped it develop its own gastronomical identity which you can indulge in a private dining experience with a custom-made menu developed by our talented chef team. Upon your request, you will be presented with sensational dishes that fully capture the essence of the local cuisine but with our signature, gourmet twist. Book this private dining experience during your Santorini and savour the island's finest combined with some truly magnificent views that will fully complement the exquisite flavours you will be sampling.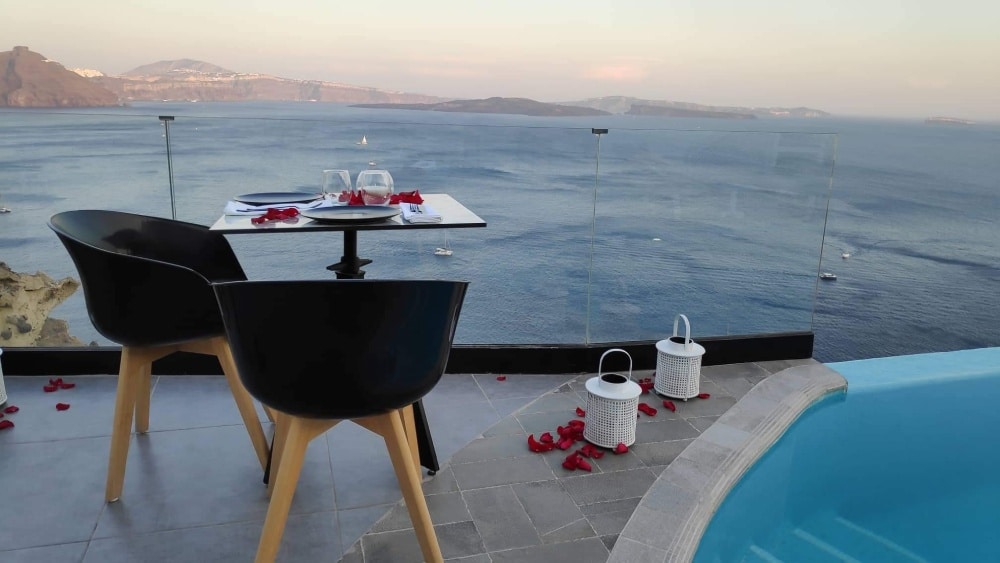 Soar through the glorious Santorini sky
Finally, for those of you who love the liberating sense that comes from soaring through the sky, an exclusive helicopter ride over the Caldera during your Santorini honeymoon is in fact the ultimate luxury romantic experience. Offering you a couple's sightseeing flight that reveals a unique vantage point, nothing will be able to beat the visuals that you and your partner will witness as you marvel at Santorini's natural beauty from above.
Soothe mind & body with a couples massage
Love blooms best when we are relaxed and calm. Being in a tranquil state allows us to be more open, more receptive and more grateful. So, during your Santorini honeymoon, don't miss the chance to pamper yourselves with a soothing couples massage through our wellness healing rituals that unlock a whole new level of mindfulness at either one of our in-hotel spas. Find the perfect treatment for each of your individual needs and preferences, and set your mood to an unperturbed state of wellbeing.