Santorini is synonymous with incredible vistas, but the regional culinary heritage of the island is truly a hidden gem.
The dramatic beauty of Santorini is visible the moment you set foot on the island. A highlight that is often side-lined by the maddening crowds is the local cuisine of Santorini. Combined with the unique ambience of the island, you will fall in love with the island and its food in a whole new way. This article explores all the fabulous food and drink experiences against a backdrop of clear waters and stunning scenery.
Private dinner
For an immersive dining experience, a private dinner at the awarded Black Rock Restaurant is not to be missed. Expect fine food, with ingredients sourced from local producers and the wider Aegean region, against a striking volcanic setting, an infinity pool leading to the azure sea and picturesque blue-domed churches. An ideal setup for newlyweds enjoying their honeymoon, the dining experience at Black Rock Restaurant always delivers on its promise.
Wine tasting
Santorini has it in spades if you're looking to explore great local wine. The island's wines are a joy to explore. The wine region of Santorini produces hearty white wines and the famous sweet Vinsanto wine. The F&B team of Secret Hotels organises wine tastings where you will have an opportunity to sample an array of wines from local vineyards and develop your tasting skills. Our passionate wine experts will pass on insider tips to help you gain more confidence in your sensory skills while enjoying a relaxing evening in good company.
Cooking class
Whether you're a novice cook or a dedicated foodie, you'll definitely want to put on your apron for a cooking class with the friendly chefs at Secret Hotel restaurants. You'll get plenty of hands-on time to perfect your cooking skills, relax and enjoy a delicious meal at the chef's table at the end of the class. Our cooking lessons are designed to be informative and entertaining, always with a view to the pumice cliffs of the Caldera.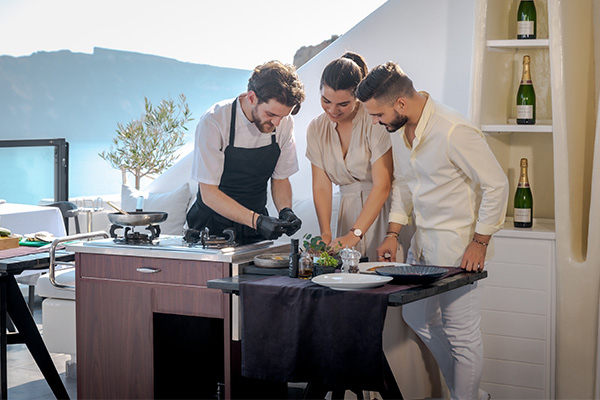 Cocktail class
Spirit enthusiasts, get ready to mix and muddle your way to cocktail perfection with one of our cocktail classes. Learn from professional mixologists and take your cocktail-crafting skills to the next level. There's a world of cocktail experiences awaiting, from immersive cocktail tasting to scenic views under the clear skies of Santorini. Whatever you're searching for, we've got the flavours to match.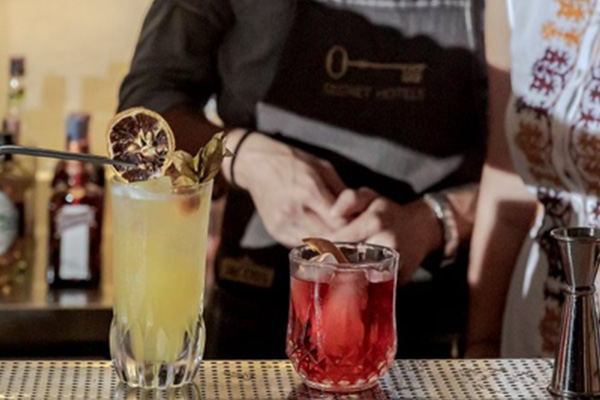 Picnic
Enjoy all the charm of picnicking alfresco with none of the hassles. Put together by the experts at Secret Hotels, these picnic packages have everything you need for a gourmet dinner in nature. Perfectly formed and brimming with delicacies, our picnic packages have been specially designed to be light enough to carry and fit comfortably in a basket. An ideal activity for couples, newlyweds and romance buffs, you're set to enjoy a lovely picnic taking in refreshing views of Caldera from a quaint, peaceful angle, unknown to the masses.
These suggestions are only painting a picture of what's possible when you stay at Secret Santorini hotels. Treat them as inspiration, purely because your activities can be created uniquely by our specialists to suit your unique preferences and fit your travel schedule. Are you feeling inspired? Get in touch with the travel experts at Santorini Secret Hotels and plan your dream holiday with us.