If you're looking for the ideal early autumn getaway, Santorini in September hits that sweet spot of being not too hot, not too busy, and easy to peruse. Explore the less touristy and more authentic side of this Greek gem with our guide
Santorini in the autumn exudes upbeat island vibes with a relaxed Mediterranean flair that you simply can't miss. There's a unique feeling of freedom to spending a weekend (or Greek-end) in Santorini in September. In this article, we unpack immersive activities so you can experience all that Santorini has to offer this autumn.
Sun-drenched beach days
No one goes to Santorini expecting anything less than frivolity. Each of the beaches in Santorini manifests different vibes and caters to diverse tastes and lifestyles. On the Red Beach, you can lounge uninterrupted as the crowds dwindle after the peak summer season. Eros Beach on the southern side of the island is perfect for a walk along the cliffs naturally carved by the wind. Don't forget your sun cream as the Greek sun is still shining bright.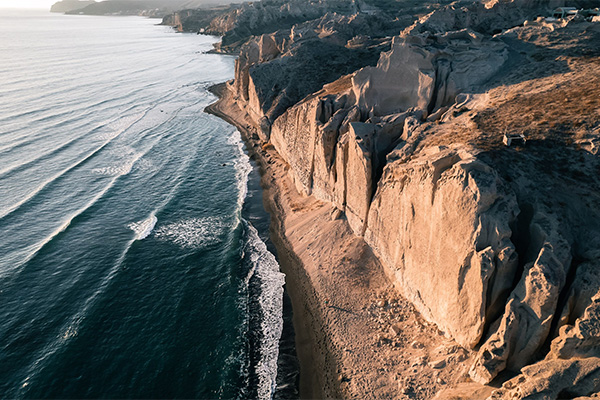 Local delicacies and wine
A perfect day's agenda includes an indulgent meal with local treats. Nothing beats a succulent Greek salad and freshly grilled fish served with extra virgin olive oil by the sea. Pair this with a glass of Assyrtiko-Santorini, Greece's most fascinating and unique indigenous grape varieties, and a candlelit restaurant and you have your perfect lunch or dinner set-up sorted.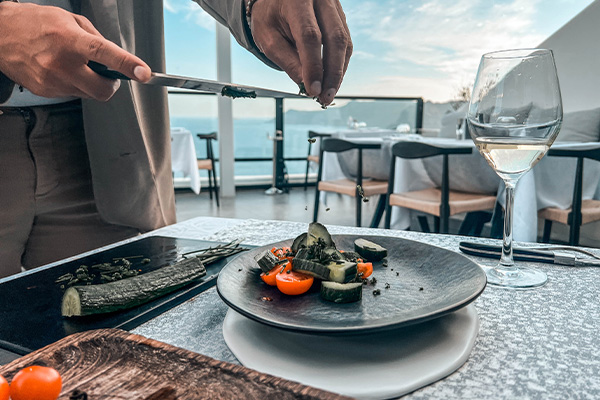 Art galleries and culture
The island's artistic side rivals world-class destinations. Explore sculptures and figurines inspired by the ancient Cycladic art, statement-making wooden sculptures, artisanal handmade ceramics and state-of-the-art jewellery at Mnemossyne Gallery. Love books? Atlantis Books is a bookstore brimming with character and books, tucked in the picturesque cobblestone alleys of Oia.
Explore ancient towns 
Often referred to as the Pompeii of the Aegean, Akrotiri is an impeccably preserved archaeological site that bears testimony to the thriving community that inhabited Santorini around 4000 BC. The earliest residents concentrated mainly around a natural port on the southern tip of the peninsula or 'akrotiri' – meaning land's edge. Hike on the rugged, rocky terrain from the prehistoric town of Akrotiri to the Red Beach and take in astonishing views.
Shopping and souvenirs
As one of the most cosmopolitan islands in Greece, Santorini boasts an array of shopping options and high-end boutiques to splurge on. From high street brands like Adidas to Greek designers and artisanal leather shops, you will be enchanted by the elegant memento of your autumnal visit to the island. Don't leave the island without local delicacies such as a bottle of Vinsanto, the local sweet wine or a jar of sun-dried tomatoes and capers.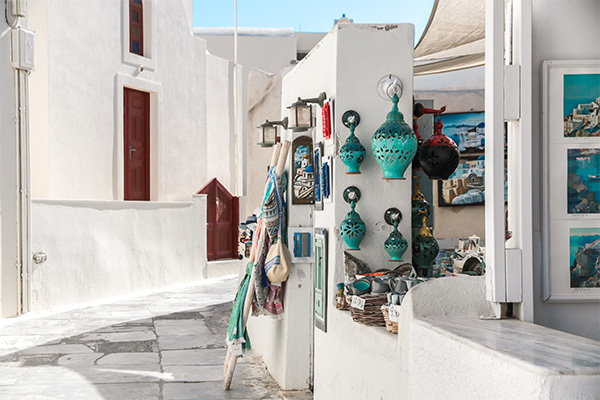 Explore the island with Secret Hotels in Santorini
With hotels located at the heart of the caldera and Oia, Secret Hotels are on a mission to help you craft a memorable travel experience, inside and outside our hotel premises.
Our well-versed team on the ground have unique insights and can tailor once-in-a-lifetime experiences for a memorable weekend in Santorini. All Secret Santorini experiences are 100% tailor-made, with attentive support from our experts on the ground. After a weekend well spent in Santorini, you'll feel as recharged as a Duracell bunny.