Secret Hotels brings you a sensational stay alternative at our private villa in Santorini. Our local insight, long-standing tradition and dedication to unsurpassed hospitality makes us continually seek to provide our guests something out of the ordinary. Just for a moment, forget about the usual cave suites that are a common trait when it comes to luxury accommodation in Santorini. Although they are simply perfect for a couple on a romantic getaway, they are, perhaps, not so suitable for accommodating larger parties or families. Our luxurious, Caldera view, private villa in Santorini, however, comes to bridge this gap. Especially ideal for meeting the needs of more than two guests, it is with great delight that we present the numerous benefits of choosing our private villa in Santorini for your next vacation to the volcanic island of sunsets.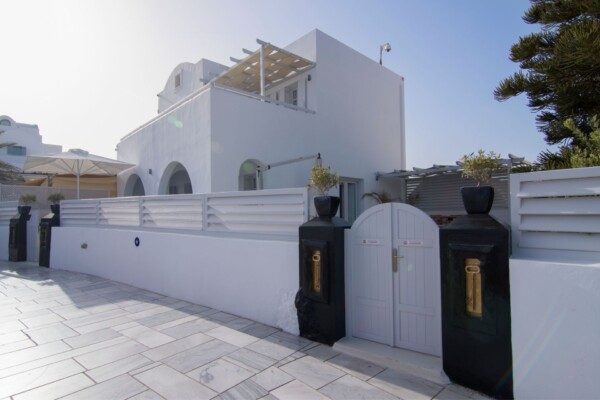 6 reasons to stay in our private villa in Santorini


1 || Generously spacious
Our Junior Villa is a staggering 120 sq. meters and suitable for up to six guests, including children. Built across two levels, the indoors feature two well-appointed separate double bedrooms with Queen size canopy beds that can comfortably sleep four guests. An additional two guests are accommodated on the comfortable sofas found in the two sizeable sitting areas. With respect to the outdoors, the Junior Villa comes with a terrace and a patio with exterior dining and sitting areas, sun beds, two outdoor hot tubs and a private pool.
2 || Absolute privacy
Now more than ever before, privacy during your holidays is a non-negotiable matter. And it doesn't get more private than our Junior Villa. The entire property is at your disposal, to lovingly share with your chosen ones, whether you are traveling as a family or a group of friends. You can be as secluded as you desire, in the spacious comfort of our elegant private villa in Santorini, fully enjoying what the island is most known for. The phenomenal Caldera views.
3 || Sought-after location in Oia
Our private villa in Santorini is primely positioned in the most sought-after location on the island. In the picturesque village of Oia. Apart from being a stunning setting to harbour a most quintessential stay in Santorini, it is also a very convenient location to be staying in. The village is brimming with amazing options for food, shopping and picture perfect frames at every corner. At our Junior villa privacy does not mean your isolation in a far away spot on the island.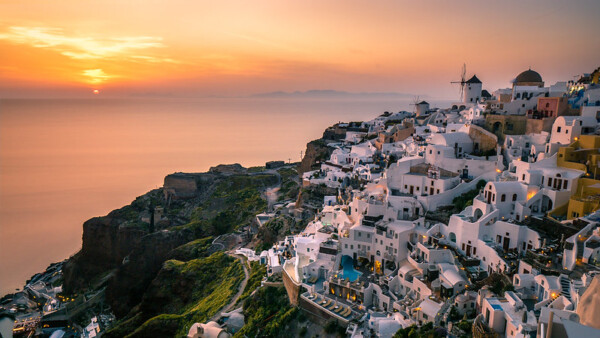 4 || Exclusive services & facilities
Booking our Junior Villa comes with the unique advantage. Being able to enjoy the exclusive services and facilities of our Santorini Secret Suites & Spa Hotel, just 50 meters away. Anything offered at our main hotel is at your disposal too. You can indulge yourselves by arranging a spa treatment, to be carried out either in your villa or at the Harmonia Spa. Delectable dining experiences await at the awarded Black Rock Restaurant.  You can also take your pick from any of our hand-picked Secret experiences to enhance your holiday even more!


5 || Ultimate flexibility
Choosing a private villa in Santorini such as our Junior Villa gives you the ultimate flexibility of planning your days exactly as you want. There is a great level of autonomy that comes with securing your private lodging. Time can run as slowly or as quickly as you want it to. You can choose to spend a few lazy days, revelling in the dreamy languor of doing nothing but soak up the rays on your private terrace and patio. And when you are ready to explore and venture around the island, Santorini is your oyster. If you ever need any help from us, our team will be happy to assist you. Just let us know! 
6 || Your home away from home
You've probably heard this phrase thrown around before. However, our Junior Villa is in fact best described as a holiday home rather than anything else. We have set it up in a way that inspires a sense of homeliness. It is lavished with the …Secret aesthetic of minimalist design and Cycladic flair that characterises the entirety of our accommodation options. Yet, the homely feel is enhanced by its spacious interiors and soothing ambiance. Families with children will absolutely love the thoughtful set up of our private villa in Santorini. It even features a kitchenette that allows guests to prepare meals themselves as well as a private pool which you can enjoy anytime of the day, for that added homely feel.