If you've been wanting to experience an adults only holiday in Santorini for a while, now is the time to make it happen. At Secret Hotels, we have devoted our luxury hospitality approach to offering adults a world of relaxation that equally thrills the senses. Staying at any one of our Santorini adults-only hotels means you are securing a holiday that will be tailored to your desires. We listen to your needs and we deliver on them with a goal to exceed your expectations, every time.
What to expect at our luxury Santorini adults-only hotels
Your time here is entirely your own. Make it count!
1|| Spend quality time with yourself
The way we have set up our lives often means we are in a constant rush. Seldom do we find the time to rekindle our balance and inner harmony, having to deal with a million and one things every day. By choosing to stay at our Santorini adults-only hotels, you will be able to claim back time and spend it by enjoying the most simple, yet satiating things in life.

Read that book that has been sitting on your bedside table for a while.

Give meditation another chance, in an environment in which you will feel safe to heal and be still, listening to the vibrations of your soul.
Unwind beyond measure by pampering yourself with a jacuzzi bath that will soak away all your worries, one bubble at a time.
2 || Tranquility & relaxation with your partner
In our daily lives, as hard as it is to find time for yourself, it is equally challenging to find intentional time to spend with your partner. Choosing an adults-only holiday is an opportunity to bond further and perhaps even reignite that spark between you. At our Santorini adults-only hotels, we give you and your loved one many wonderful options of interacting, while your attention is only drawn towards each other.

Let the moments you share with your partner linger for longer. Don't rush to get out of bed in the morning. Have a late breakfast served directly to your suite and enjoy it at your own pace from the very first sip to the last bite.

Book a couples spa session through our Spa Rituals; surrender to the healing hands of our spa therapists and observe how differently you will both feel afterwards.
Hold hands and make future plans together, as you watch the magical Santorini sunset leave a divine masterpiece of colours in the sky.
3 ||  Scenic walks & boutique shopping in Oia 
Our Santorini adults-only hotels are found on the island's top locations. Three out of five are in the gorgeously picturesque settlement of Oia, the most photographed spot on the island. Oia is dotted with typical Cycladic cubist buildings, but with charming bursts of colour here and there, featuring many unique shops and stores to peruse at your leisure. 
Photograph your way through the maze of cobblestone streets as your eye's lens catches picture-perfect frames, left right and center.

Browse the designer shops and concept stores such as our very own Marysol Boutique, that carry a plethora of luxury and artisan brands where you will find an endless choice of quality fashion, accessories, jewelry and more.
Say 'Kalimera' as you pass by the locals and the friendly shopkeepers, and be sure to check out their traditional wares for unique items to bring back to your friends and family.
4 ||  Dress up for dinner & cocktails
While on your adults-only holiday in Santorini, you can pull out all the stops. Take the time to dress up and look (and feel) your most fabulous self. Secret Hotels' restaurants provide the ultimate quiet and romantic setting without any kids around to spoil the serene ambiance, coupling amazing food and delectable cocktails with phenomenal views in elegant venues for the most memorable of evenings. 
Black Rock Restaurant – Perched on the Caldera cliff and overlooking the imposing volcano, our awarded restaurant serves you mouth watering flavours from its creative, post-modern Greek menu.
White Rock Restaurant – Set within the wild landscapes of Finikia, our restaurant brings you a series of all time favourite dishes with a gourmet-comfort approach coupled with direct sunset views.
5 || Amazing adults-only experiences
At Secret Hotels, we have made sure that while on your adults-only holiday, you will have ample choice from our amazing experiences that are tailored to adults only. Going off the beaten path, we have designed our Secret Surprises to offer our adult guests a true taste of Santorini's enchantment. 
Enjoy an exclusive, sunset picnic at a secret spot during the most magical hour of the day. Let us know when and we will take care of everything, including a delectable picnic basket with fusion dishes and Santorinian wine or champagne.

Private wine tasting, either at the comfort of your Suite's terrace if you prefer or at the local wineries; private food tasting upon request plus special cooking classes that are a great way for couples to bond while learning a new, delicious skill.
Scenic sea tours of the island with our private yacht excursions that will take you to all the hidden nooks of Santorini's intricate coastline, find that spot that inspires you most and revel in the feeling of joy that comes when being fully present in the moment.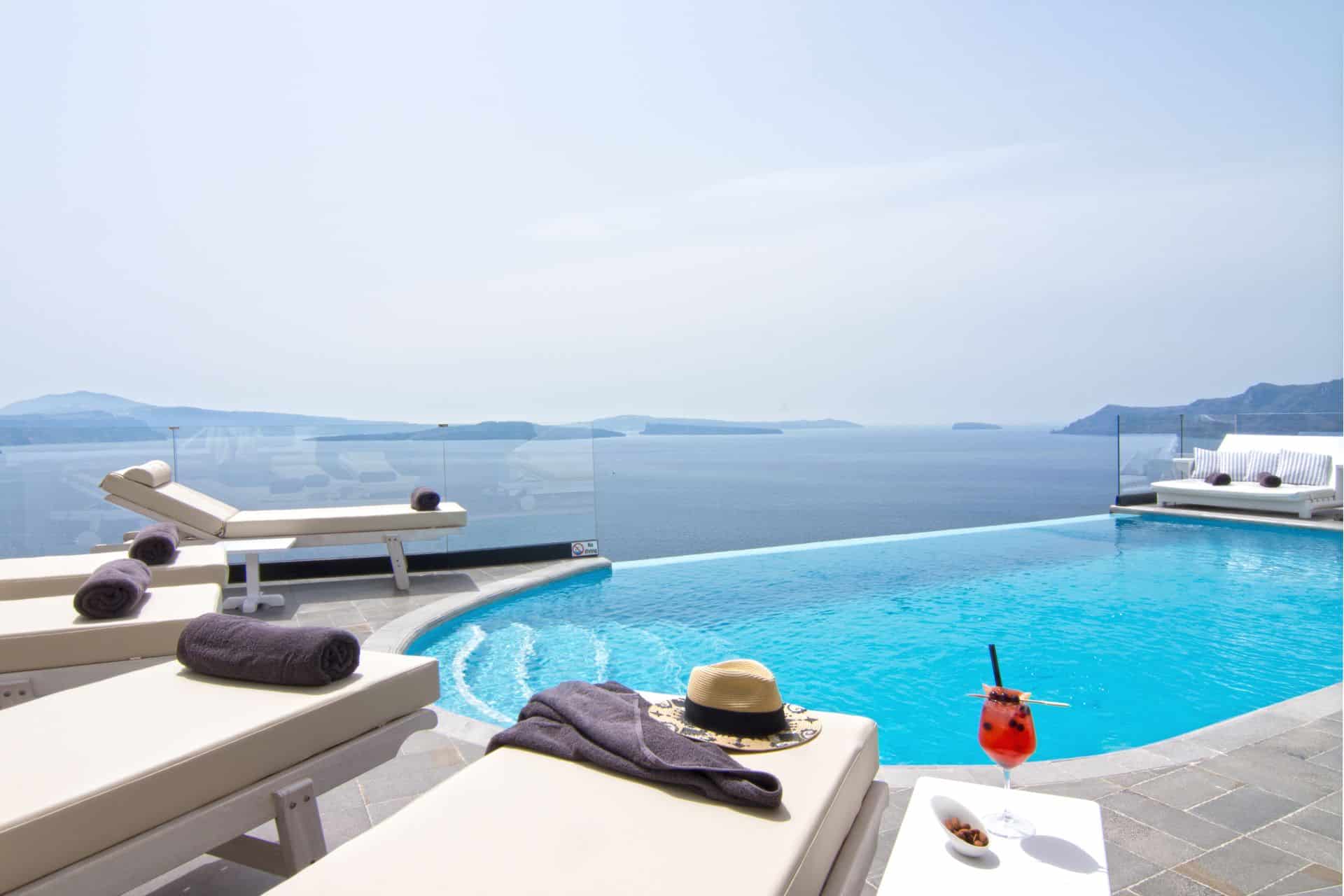 Across all our Santorini adults-only hotels, we give you various fascinating ways to spend your time not just well, but splendidly in a carefree manner, so that you can truly fulfill your adults-only holiday dream. Afterall, here everything is designed with an adults-only mentality in mind.