What makes Santorini part of the jet-set list of favourite destinations? Well, it is not one but many things that seamlessly come together almost naturally. However, if we had to choose just one, it would definitely be the astonishing views our home island so generously offers. Second best comes the surge of feelings that are associated with such breath-taking views. So what happens when you combine phenomenal views with, let's say, incredible gastronomy?
Our answer is an absolute treat for all the senses. If you seek to experience the magic that unfolds when coupling refined flavours with enchanting vistas, then be sure to make a reservation at one of our sensational Santorini restaurants with a view to remember.
Secret Hotels' Santorini restaurants with a view
1. Black Rock
Set in the most sought after location in Santorini, Black Rock Restaurant is perched upon the cliffside of Oia Village and belongs to our Santorini Secret Suites & Spa hotel. It is an awarded restaurant in Santorini for its bold and sophisticated menus that showcase all the best flavours of the famous Mediterranean cuisine, with a unique gourmet approach. Here you can indulge your taste palette in a myriad of tantalising flavours that tell stories of tradition, wrapped up in a modern way. All the great Greek classic recipes have received a fine dining twist, for a culinary journey that traverses time. Enjoy one of our signature cocktails or the joys of consummate wine pairing, as you soak up the cosmopolitan vibes and feel the mesmerising ambiance that sets in, especially during sunset. As for the views, you might be able to get a hint from the restaurant's name: Black Rock Restaurant offers immaculate views onto the legendary Caldera, reaching as far as the charred yet iconic volcano and beyond.
2. White Rock
Situated in the hinterland of Santorini, tucked in the more-laid back settlement of Foinikia Village, White Rock Restaurant invites guests to marvel at a lesser-known vantage point with awe-inspiring direct sunset views. Part of our The Secret View Hotel, White Rock's menu is best characterised as modern Mediterranean. It serves all-time favourite dishes that have a high comfort factor yet maintain the unique link to the island's local flavours. Decorated in a way that conveys Bohemian-chic vibes, White Rock comes to offer a more casual dining experience than most top tier restaurants found on the island. Somewhere in between a glorified taverna and fine dining, it promises mouthwatering dishes accompanied by the most enthralling sunset views you could imagine. Enjoy an aperitif, delectable wines or cocktails as you watch the sun dive into the Aegean sea, slowly, whilst leaving a masterpiece of colours in the sky in its wake.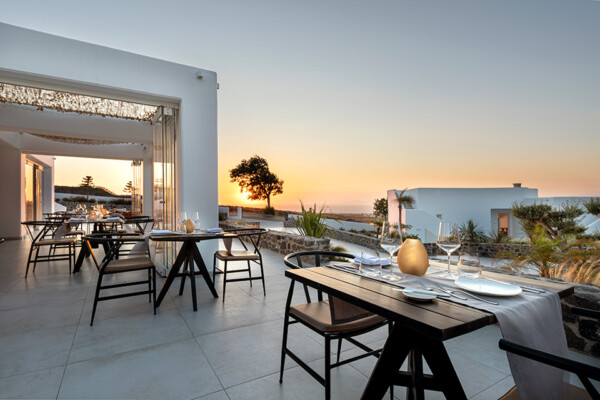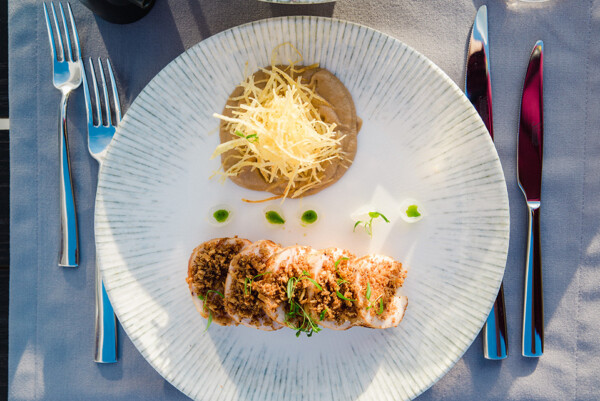 If you have tried any one of our Santorini restaurants with a view, you will know exactly what we are talking about. Yet since a picture can be worth a thousand words, an actual experience must be worth a million. And so, there are some things in life that simply cannot be described, however hard we may try. All you have to do is make your reservation at one of the Secret Hotels' Santorini restaurants with a view and to find out that magic truly exists, if we care to acknowledge it.