Why Visit Santorini?
Santorini is a volcanic island, that has a unique surface and landscape. Also known as "the white city" due to the buildings, which are white-washed and built on top of each other.
The island has an extraordinary history, numerous archaeological sites worth exploring, and lots of natural wonders such as the Caldera, Akrotiri, and Thirasia.
Here is a guide of the best 10 things to do in Santorini to make the most of your journey.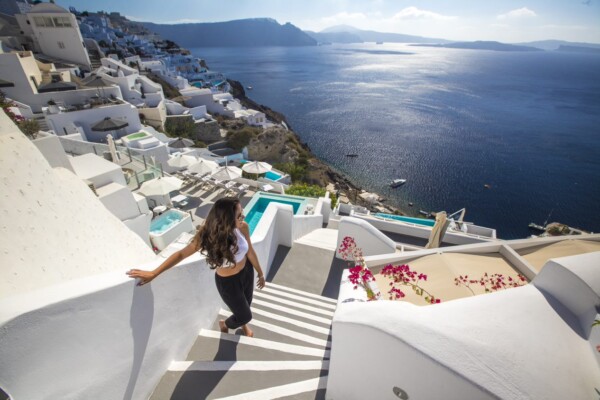 Enjoy the sunset from Oia
Watching the sunset in Santorini is a great experience, especially if you are there with someone close to your heart. It's not just about admiring the beauty of nature; it's about enjoying each other's time and company as well. The beauty of this place can be a life-changer if you let it!
Located on the northwest of the island, the village of Oia is the most popular location to view the sunset. If big crowds are not your cup of tea, you can always head up to the quieter hillside behind Oia.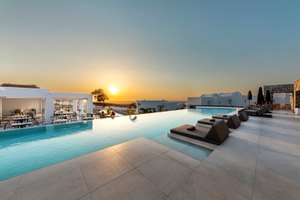 Explore the ruins of ancient Thira
Thira is a small volcanic island situated in the south of Santorini. It was first inhabited during the Bronze Age and it used to be an important trading port. Archaeologists believe that Thira was covered by a volcano, and it is now filled with archaeological treasures.
The ruins of ancient Thira are among the main attractions of the island and can be reached by boat after a short crossing from Fira. They were discovered by a British archaeologist in 1859, who visited the island for just a week and noticed that there were traces of ancient human activity all around him. He dug into one of these ancient walls to discover what was inside, only to find nine tombs with skeletons, pottery, coins, and jewelry.
Take a ride on the cable car to the top of the volcano
A ride on the cable car to the top of the volcano is among the most popular activities in Santorini. It will take you up to the volcano's caldera with breathtaking views of Santorini, before descending back down to Akrotiri, an archaeological site where you can explore ancient ruins and learn more about this once-bustling city.
Take a cruise around the caldera
A boat cruise around the caldera can be an incredible experience. You will get to see all of the beauty that Santorini has to offer and learn about its history too.
Private yacht excursions around Santorini are also perfect for those who want to have a more intimate experience in Santorini, as they offer a more personalized tour than some other options. By selecting a private boat tour, you will receive 100% of the highly trained teams' attention and care.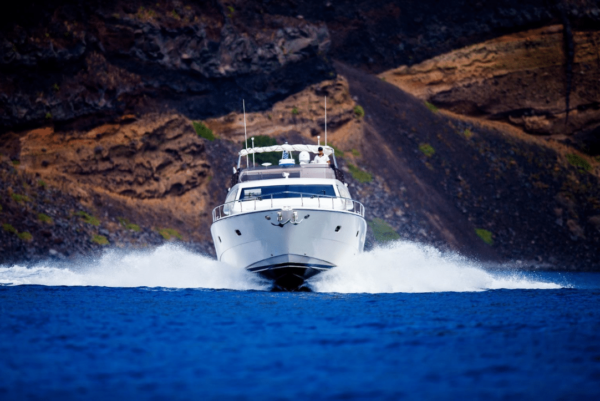 Private Wine Tasting
Santorini wines are made from grapes that grow in the volcanic soil of the island, giving them a unique taste.
The grapes are harvested by hand and then crushed to extract their juice. The grape juice undergoes fermentation with the assistance of local yeast, which eventually will become the famous wine of Santorini. This process can take anywhere between two weeks and six months depending on the type of wine being made.
The volcanic soil, strong winds, and extreme sun all culminate to produce some of the most fascinating wines like Assyrtiko, Nykteri, and Vinsanto.
Enjoy the series of wines, both regional and worldwide, with a private wine tasting concierge service in the privacy of your verandah.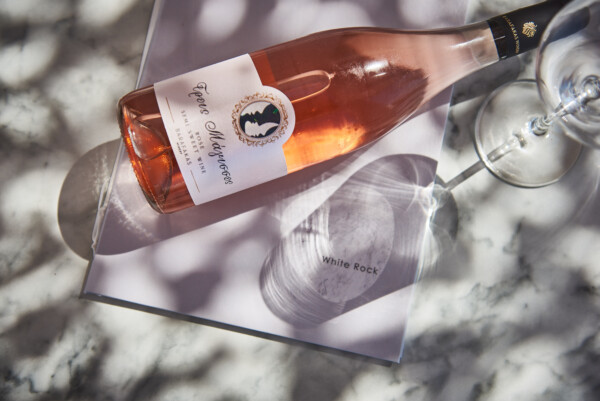 Santorini Dining
The cuisine in Santorini is a fascinating mix of Greek and Mediterranean flavors, with influences from other cuisines. There are plenty of restaurants on the island where you can enjoy local food dishes like fish soup, grilled octopus, and fresh fruits.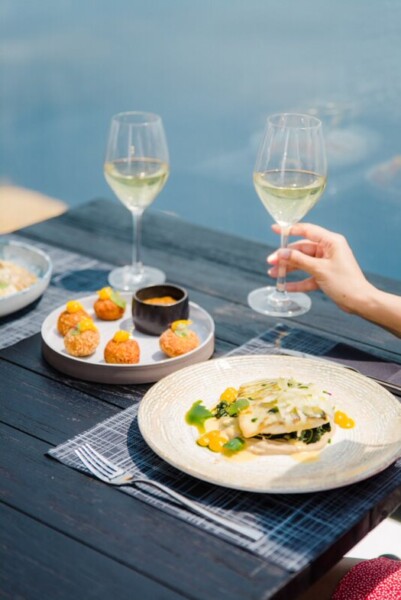 Restaurants located on the edge of a cliff offer stunning views of the caldera, one of Santorini's most iconic features. Some of these restaurants have tables set up on verandas overlooking the caldera, while others are situated simply a couple of meters from its edge so that diners can feel as if they are standing at the edge of it.
Black Rock and White Rock restaurant – two of the best and awarded restaurants in Santorini – will fill your palate with a million Greek taste experiences and beyond.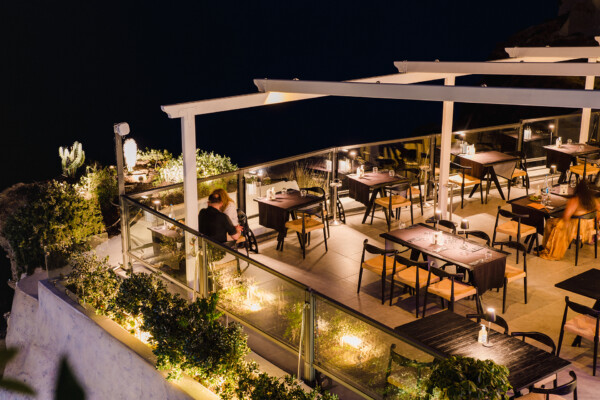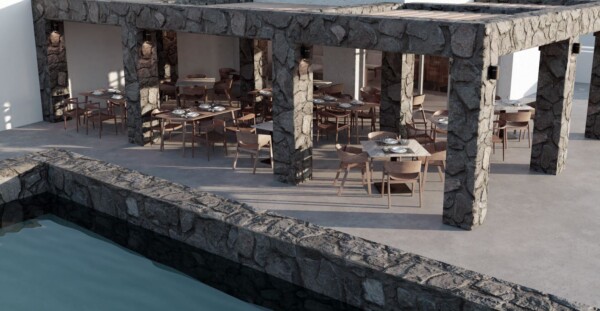 Private Picnic
Spend quality time with your friends or loved ones looking out at the sea, and watching the sunset, while enjoying an amazing culinary experience.
Taste ingenious and mixed dishes from the Mediterranean cuisine on a private picnic, along with Santorinian wine and champagne under the Santorinian sky.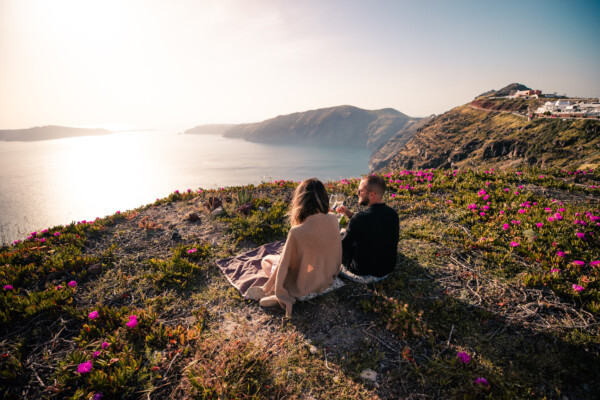 Visit Santorini's best beaches
The volcanic nature of Santorini has produced an unparalleled and special landscape. Red and black rocks, white pebbles, pumice, and deep blue crystal-clear waters comprise an island like no other in the world. The black beaches in Perissa and Kamari, the Red Beach, and the beach in Vlychada that evokes lunar landscapes, cover every whim since the visitor can find beaches with beach bars but also deserted bays far away from loud crowds.
The beaches of Oia, on the north coast of Santorini, are not so easily accessible, nevertheless they have a unique appeal and worth the trouble of going there.
Private Island Tour
Experience the immense charm of a unique Greek island with the expert assistance of an experienced expert driver/guide, going on a magical tour you will cherish for a long time!
Arrange a personal chauffeured tour of Santorini with an experienced guide who will take you to the most remote parts of the island, reveal its concealed history, along with the popular areas that a person cannot miss out on when going to Santorini.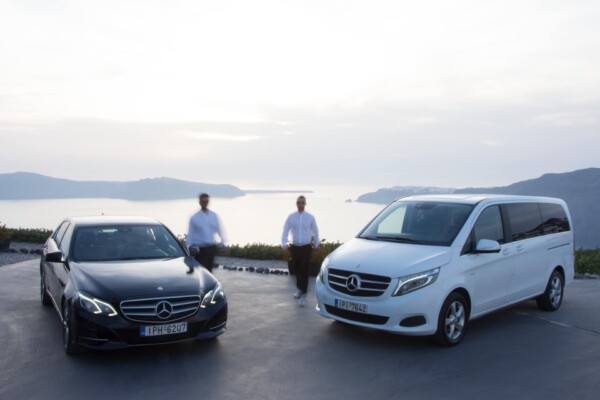 Hike between Fira and Oia
The hike between Fira and Oia is a must for any visitor of Santorini.
It is among the most popular hikes on the island, as it takes you from the busy town of Fira to the stunning village of Oia. The hike takes about 2-3 hours and can be done by anyone who has a reasonable level of physical fitness.
It is an ideal way to spend a morning. Simply begin early since the sun gets harsh around midday. Use good walking shoes, bring water, sunscreen, and perhaps a hat.